STEEL FOUNDRY
Dunes Industries LLC, an ISO 9001:2008 Company; situated at Sohar Free zone, Sultanate Of Oman was incorporated in 2013. Dunes Industries has manufacturing activities which includes a state of the art foundry facility to cater to the needs of the customers in GCC / MENA Region. The foundry is capable of producing wide range of all ASTM standards Steel castings according to client's requirements. Dunes Foundry has a production capacity of 4000 MT per annum, which is likely to be enhanced up to 8000 MT per annum. Currently producing High Manganese and High Chromium Steel castings for all types of Crushers parts, Cement, Industrial application and Mining Sectors. Dunes Foundry has very dedicated team of technical persons on reliable service systems that ensures delivering consistently high quality products.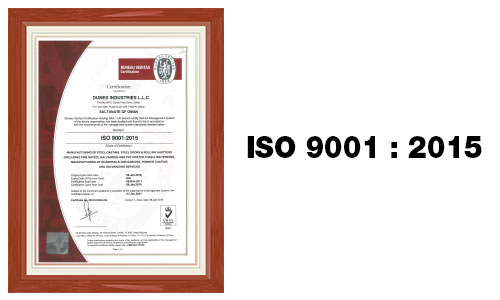 LIST OF PLANT AND MACHINERY / LAB EQUIPMENTS
Flexi Cam 5-Axis CNC Pattern Making.
20 TPH Omega Sparten Series Continuos Sand Mixer.
150 KG Batch Sand Mixer (Intensive Mixer Type).
1.5 MT/ 3 MT Induction Melting Furnaces-Medium Frequency.
7 MT & 3 MT Electric Bogie Hearth Heat Treatment Furnaces with Temp. Controllers & Recorders Upto 1100°C.
Air Cooled Compressors.
Knock out with Vibratory Motors & Screening.
Swing Frame Grinders.
10 MT EOT Cranes.
Furnace Fume Extracting System including Wet Scrubber and Stack.
Automatic Y type 1MT Shot blast machine.
120 MT Weigh Bridges.
ARL 3460 (OES) 25 Elements Spectrometer with Computer Control.
Inverted Metallurgical Microscope DMI Premium Series & Image Analyzer.
Carbon And Sulphur Determinator.
Brinell & Rockwell hardness Tester.
Sand Testing Equipment.
Muffle Furnaces.
Portable & Lancing Type Pyrometers.
Olympus UT Machine.
Welding & Gouging Machineries.
Dimension Surface table.
Laddle Pre-heating System.
MATERIAL SPECIFICATION
Wear Resistant Castings for Cement Plants, Crushers & Quarries (High Chromium).
Class II Type A, Type B & Type D.
Class III Type A.
Manganese Steel
Grade A, B3, C & E1.
Carbon Steel
Grade WCB & WCC.
Corrosion Resistant - Stainless Steel
Grade CF3, CF3M, CF8, CF8C, CF8M.
Heat Resistant Stainless Steel castings
Grade HD, HF, HH, HK & HT
Dunes Industries LLC, an ISO 9001:2008 Company, production capacity of 4000 MT per annum, which is likely to be enhanced up to 8000 MT per annum
Inhouse Pattern Makking
Pattern shop
Pattern making facilities includes 5 axis CNC router machine with CAD/CAM technology to produce pattern up to 3.0 meter in length & 1.0 meter height.
A team of highly skilled designers, pattern makers & pattern inspectors engaged in this activity ensures that the dimensions of the final cast product are strictly in line with the customers' requirements.
The in-house facility of pattern making helps in reducing the delivery lead time to the customer.
Automated Moulding
Moulding
The Quality of the casting is determined by high quality moulding process.
In order to optimize the moulding process a Continuous Sand Mixer unit with a capacity of 20 TPH from Omega Spartan, has been installed which is the best for today's no-bake moulding process.
The moulding sector has a capability of preparing moulds for casting's weighing from 1kg to 2500 Kgs/piece.
Quality control
Quality control
The QC department has facilities with ARL Swiss made 25 Elements spectrometer for determining precise chemical composition of the metal and also Carbon Sulphur Determinator by wet analysis. Image Analyzer by Inverted Metallurgical Microscope DMI Premium series with digital photographic attachment are used to maintain precise alloy composition to meet ASTM standards. Mechanical testing like Tensile Testing, Hardness Testing and Ultrasonic detection for internal flaws are used to characterize the materials. Our Products undergo rigorous quality checks at every stage of production in order to ensure the physical & dimensional properties of each component.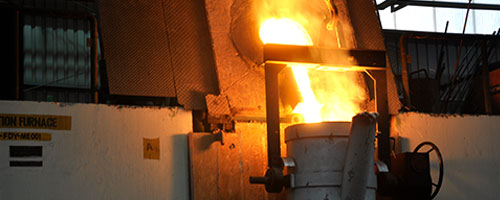 Electric Induction Furnace 1.5 & 3 Ton Capacity
Melt Shop
Dunes Foundry has presently a melting capacity of 1.5 MT and 3.0 MT medium frequency Induction Melting Furnace for optimal melting and power efficiency and the capacity can be enhance to pour molten metal up to 4.5 MT by running both the crucibles at a time.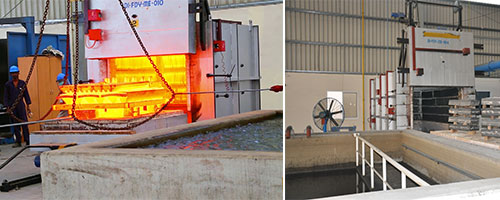 Heat Treatment Furnace 3 & 7 Ton Capacity
Heat Treatment
Dunes Foundry has a Shingo programmer controlled heating equipment which includes 7MT and 3MT Electric Bogie Hearth Heat Treatment Furnace. This helps the casting in achieving the desired mechanical properties such as Solution Annealing, Hardening and Tempering.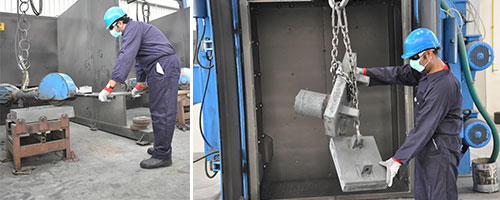 Finishing
Finishing
The adequate surface finish of the product is achieved by a Shot Blasting Y- Type Auto Machine -1000 kg/hr. Further the finishing is carried out with Swing Frame Grinder, Flexi Grinder, Pedestal Type Grinder and final touch by Die-Grinders.