POWDER COATING & DURABILITY
Dunes Powder Coating Division is fully equipped with state-of-the-art powder coating facilities. With a fully automatic powder coating lines and a variety of pre-treatment facilities we can provide the highest level of corrosion protection for various materials.

Powder coatings are an environment friendly coating solution offering superior protection for elements which require maximum abrasion resistance and hardness. It provides a more durable finish than that of liquid paints with a more attractive finish. Powder coated products are more resistant to diminished coating quality as a result of impact, moisture, chemicals, ultraviolet light, and other extreme weather conditions. In turn, this reduces the risk of scratches, chipping, abrasions, corrosion, fading, and other wear issues. In addition to being durable, powder coating is an attractive choice due to environmental advantages.


We use nothing but the best powder coating supplies, the best methods and the best service standards. We have new equipment and greater capabilities including a 30m powder-coating oven for larger jobs
DURABILITY OF POWDER COATING
Powder coating has become the coating of choice for a variety of commercial and industrial application as displayed below:
| | |
| --- | --- |
| Rolling Shutters | Down spouts |
| Metal Doors & Frames | Structural steel |
| Gates | Highway signs |
| Fencing Posts | Railings & Rails |
| Aluminium doors/windows | Steel Roofing, Decking & Platforms |
| Aluminium extrusions | Curtain walls |
| Light Fixtures & Light Poles | Facades |
| Electrical cabinets | Louvers |
| Switch gears | Metal gutters |
| Light poles | etc. |
At Dunes we have the capacity to service from the tiniest of parts up to over 2.2m tall and maximum of 10m long.
DUNES ADVANTAGE
Quality of Dunes Powder Coating
The unique method with which powder coating is applied results in superior consistency and uniformity of the finish without sags, drips, runs, or bubbles.
The performance properties - impact resistance, flexibility, and corrosion resistance of powder coating are better than with liquid paints.
Powder coated parts resist cracking, peeling, and marring during handling and normal service use.
Because of the advanced method of application it gives a durable, uniform and attractive finish.
All powder coatings are decorative and protective, and different formulations of powder coatings are available to provide extra protection from ultra-violet rays, corrosion, abrasion, and chemicals.
They provide good electrical insulation properties and can also have special characteristics like electrostatic discharge.
Features and Benefits
of Dunes Powder Coatings:
Optimized particle size (Air classified) for increased transfer efficiency
Increased hide, enabling lower film thickness
Low applied cost powder coatings
Accurate batch to batch color matching
Accurate batch to batch gloss levels
Customized wrinkle & leatherette profiles
Range of finishes, color and gloss
On site Technical service
Coating in Paint Booth
Curing in Oven
Inspection
Packaging
Powder coating is a dry finishing process, using finely ground particles of pigment and resin that are electrostatically charged and sprayed onto electrically grounded parts. The charged powder particles adhere to the parts and are held .... read more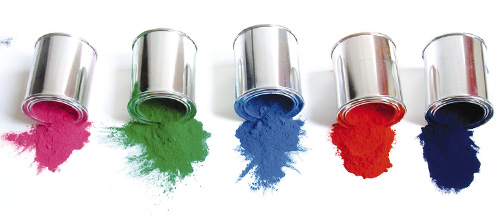 Dunes powder coatings are available in an amazing variety of decorative colors and textures to stretch the limits of the most imaginative designer; the application options are virtually endless. Dunes Powder Coatings are .... read more

In addition to being the more durable and attractive choice, powder coating is also highly protective of our environment.

Unlike many liquid paints, powder coatings are .... read more